Share a Smile Movement e.V.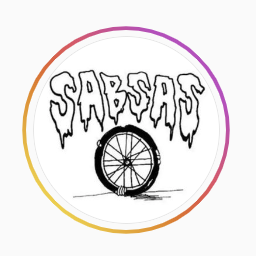 Share a Bike – Share a Smile didn't start as a project or NGO. The project developed slowly as an extension of Gabo's personally and attitude towards life, until it became what you know today.
Before that, Gabo would use BMX a tool for social integration. Using it to connect other migrants like him, friends and people at risk of social exclusion. As powerful tool to enrich their lives, as well as his own.
If you have ridden BMX long anough, you know how powerful it can be. You can often hear "it is much more than a sport".
Indeed, it is community, meditation, therapy, just naming a few things. You can hear countless stories of riders thanking BMX for "saving their lives", some of the stories are more profound than others, but all of them showing the impact that BMX has had in them.
That's what we are sharing with every package full of BMX parts, we share opportunities, we share community, we share hope and of course we share smiles.
Origilally, Gabo would share samll bits here and there one or twice a year. The fist time in 2005 at age of 14, whrn he had to leave Europe and go back to Argentina with his family.
Rememberingthe lack of resources his hometown, Mendoza, had he started collecting parts to bring & share there. This way of seeing and experiencing life kept growing until mid-2020, when encouraged by a friend (Leo Calderon) who saw how big of an impact Gabo's attitude could have if he decide to give a step fordward creating a project.
Gabo decide to establish an NGO and document the process of sharing what he loves to increase the flow and impact small kid bikes can have around the world.
SABSAS was born to connect riders & to help the development of the BMX scenes with the local riders in different countries. This is how slowly but surely SABSAS has been growing, getting more people on board, getting shops on board donating, becoming drop off points for roders to donate &spreading the world.
This is how SABSAS managed to provide bike parts to many riders in countries without access to them, most of them are distributed in African countires such as Kenya, Morocco, Algeria, Uganda, Rwanda, naming a few, but also in Central America, South America and Asia.
For the distribution, we work hand in hand with local riders that share their needs and exoectations with us. They will be responsable for redistributing the pieces in the fairest possible way once them gets to their destination.
Usually this is celebrated in a BMX jam, as the street series we held in Morocco where the parts are distributed while celebrating the love of BMX all together.
If you want to collaborate don't hesitate in contacting us, this is just the beginning, we are writing the cange together!